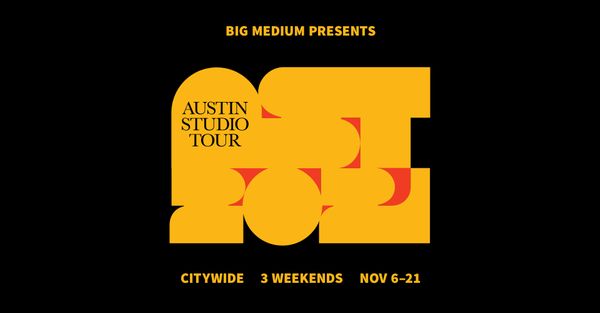 Austin Studio Tour 2021
With the Clay Collective of Austin and Ashley Thompson, Stops 073 and 074. Noon-6pm November 6-7 & 13-14 maps and catalogue online here
Austin Studio Tour
The Austin Studio Tour introduces the public to new ways of experiencing art and the creative practices of artists around our city. This year, the studio tour combines the former East and West Austin Studio Tours into one citywide event presented across three weekends in November.
Weekend 1: November 6–7, 12–6pm (WEST)
‍Weekend 2: November 13–14, 12–6pm (WEST & EAST)
‍Weekend 3: November 20–21, 12–6pm (EAST)
Now in its 20th iteration, the Austin Studio Tour has become an Austin tradition and continues Big Medium's mission of fostering connections between artists while presenting the public with a rare opportunity to engage and connect with many of the creatives that help define the culture of our city.
With the safety of our artists and audience at the forefront, the Austin Studio Tour presents creative ways to safely experience art through virtual programs, in-person studio visits by appointment, and self‑guided visits to public art. The expanded online platform will include artist profiles, images of artworks, virtual studio visits, demonstrations, artists talks, an online event guide, and a map of all participating locations.
Now more than ever, it is essential that we celebrate and advocate for our local artists. We hope the public will use the website and art book as resources to connect with artists, purchase new works and commissions, and proudly invest in the creative economy of Austin.